---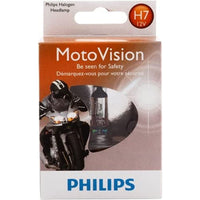 Sale
Get 40% more light on the road compared to a standard halogen headlight bulb

Choose Philips MotoVision for its unique orange reflection in the headlight that helps motorcyclists stand out in traffic

Also great for snowmobile and ATV applications.

Motorcycle headlight bulbs by Philips, for over 100 years we have been continuously innovating automotive lighting DOT compliant

When installing a new bulb, never touch the glass. Either use gloves or paper towel when handling.
For maximum safety and visibility, Philips offers the MotoVision lighting solution with a distinctive, attention-grabbing orange effect in the headlight. Motorcycle riders everywhere are looking for more safety, especially in heavy city traffic. Philips has specifically engineered the MotoVision for maximum visibility as well as maximum safety.