---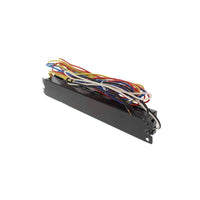 Sale
Standard Electronic Linear Fluorescent Ballast. E432T8IS120/N/AS

Operates:
4 30W F32T8/ES
3 32W F32T8
4 32W F32T8
3 40W F40T8
4 17W F17T8
3 25W F25T8
3 25W F32T8/ES
4 25W F25T8
4 25W F32T8/ES
3 28W F32T8/ES
4 28W F32T8/ES
3 30W F32T8/ES

Instant start ballasts are designed to ignite the lamp by providing a high voltage without the need of preheating the filaments. As a result, instant start ballasts are more energy efficient than other ballasts. They provide a reduction of two watts per lamp compared to rapid start ballasts. Offering longer remote wiring distances and easy installation, instant start ballasts are ideal for applications that have long burn hours and minimal on/off switching. Typically, 10 000 to 15 000 switch cycles can be expected before lamp failure.

A ballast is an integral component of most modern lighting systems. It is primarily designed to perform three critical tasks: Deliver the proper voltage to start or ignite the lamp(s), Regulate the electric current flowing through the lamp(s), and Compensate for variations in line voltage. The ballast must correspond exactly to the requirements of the lamp it is designed to operate in order to ensure optimal performance.

Product Specifications :
Ballast Type: Electronic
Brand: Standard
Height (in): 1
Height (mm): 25.0
Input Frequency: 60
Input Voltage: 120
Lamp Connection: Parallel
Length (in): 9-1/2
Length (mm): 241.0
Maximum Case Temperature (°C): 75
Minimum Starting Temperature (°C): -18
Mounting (in): 8-29/32
Mounting (mm): 226.0
Trim Type: Active Instant Start
UltraViolet Stop (UVS): Active